Time of Reunion Act 3: Event Task
【Gameplay Instruction】
The third act of the main story will be updated after the maintenance on November 11th. Players who have completed the third act will be able to participate in the event match through the event entrance from 10:00 on November 12th (Server time).
The map of event match is Dark Woods. There will be a "Nightmare" AI in the game map. The goal of the players is avoiding the chase from "Nightmare" and escape from the Dark Woods.
There are four levels of difficulty for the "Nightmare" AI. Struggle difficulty can be challenged by a single player. Suffering, Madness, and Vanity require a team of 4 players to challenge. Clear the lower levels of difficulties and unlock the progress of event task, which would enable you to unlock higher levels of difficulty. Different difficulty affects the behavior of the "Nightmare" AI, and trigger different crises (poison gas, explosion, etc.) will appear on the map.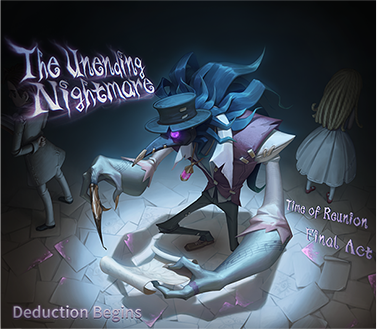 【Rewards Instruction】
① Finish personal task to obtain Memory fragment. The memory fragment can be exchanged for S costume fragment, The emote of "Nightmare", etc.
②Unlock the event task, finish any personal task to obtain the following rewards for free:
Memory Fragment
Portrait of "Nightmare"
New Hunter:"Nightmare"